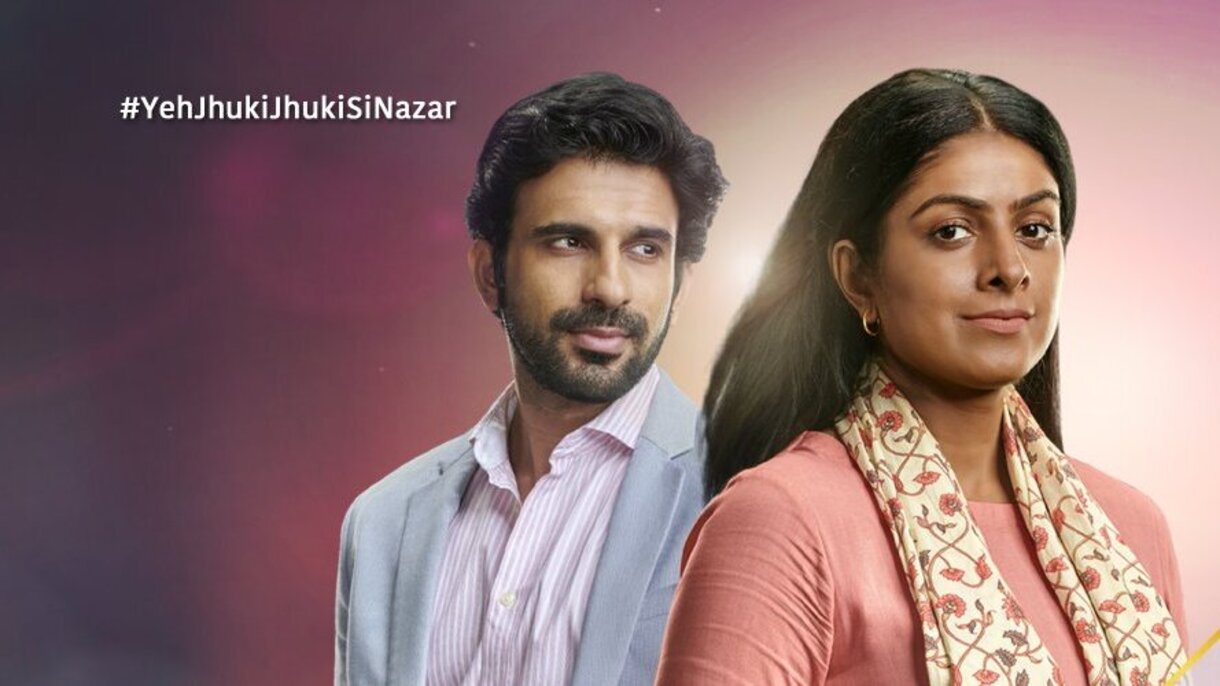 Yeh Jhukhi Jhukhi Si Nazar 7th April 2022 Written Episode, Written Update on UttarPradeshLive.Com
Episode starts with Diya thinking that she will not tell Kajal about Armaan so soon. Kris gives advice to Armaan. He says if mummy knows that you like Diya, then it will be a big drama. Armaan says don't tell this to anyone. Kajal asks Diya to leave and confesses her feelings to the one she loves, maybe he wants the same and hesitates to say. Krish says mother will not leave me if she knows that I know this, does Diya know. Armaan Signs No. He says I have not told Diya till now. Kajal asks will you say or not. Diya shakes her head and gives a message to Armaan. She asks him to meet her for a small talk. Armaan says I want to meet her too, will I message, tell me. He replies that I have to tell you something small too. Diya reads his message and jumps with joy. Hey… Drama… Diya imagines Armaan and his romantic moments. She starts seeing him everywhere. She buys flowers. She comes home.
Anju says you knew it and didn't tell us. Brij says yes, their faces are shining. Anju says we will have sweets. Diya asks how do you know. Palki says I did yes to marry Armaan. Diya gets shocked. Palki says I am very happy. Diya asks him to come and talk to him. The palanquin goes with him. Diya asks him to tell the truth, forget revenge. Palki says I really started liking Armaan, it is true that I thought of taking revenge but I couldn't hate him, I didn't know when my hatred turned into liking. Diya gets sad. She disconnects Armaan's phone. Palki says I like her special smile which assures me, you are crying, you will say that you are very happy for me, I am also very happy, you are my best friend, tell me, let me know. Will not get better life partner. Diya shook her head. The palanquin hugged him. Anju and Brij come and hug them. Palki says if Armaan is with me then I will handle everything. Diya smiles.
Armaan comes to the cafe to meet Diya. He rehearses to confess his love for Diya. He thinks of Diya. Anju says I ask Nimmi to call Sudha. Palki says I am sure. Diya gets a call from Armaan. She says what will I do if they see her phone. She disconnects. She says it is not a small call. He calls her again. Diya says my friend likes to gossip, I will talk to her tomorrow. Anju says I cannot believe palanquin, I will call Nimmi and come. She goes. Armaan calls and gets Diya's phone switched off. He gives her the message. Bhavna says that the palanquin has agreed, now Armaan should not refuse. Pawan asks him to come. Bhavna says I do not want to go to the reception. Sudha asks him to leave.
Precap:
Armaan asks Diya to look into her eyes and say. He says I know you have feelings for me, please say it. Diya cries.

Update Credits: Amena
Subscribe to Our YouTube, Instagram and Twitter – Twitter, Youtube and Instagram.