Ritesh and Indhu went home. Aunt Valsa handed over the child.
Valsa: Indhu, what is this, don't you recognize vermilion?
Indu suddenly realized this and touched his forehead.
Valsa: The son of Riteish should quickly fill vermilion in his suit.
Valasa gave him a box of vermilion.
Ritesh stares at Indu. Indu gets angry.
Ritesh: Will Auntie do it later?
Valasa: Why then, your wife is yours. you have to do it.
Ritesh nodded and filled Sindhu's forehead with vermilion. They both looked at each other. Meanwhile, baby Kiara began to cry.
Indhu: Mommy has come, baby. Now you don't need to cry.
Indhu and Ritesh go to her apartment and Ritesh starts watching Indhu as she takes care of the baby on my lap.
Ritesh: Indu!!
Hindu: Han Riteshho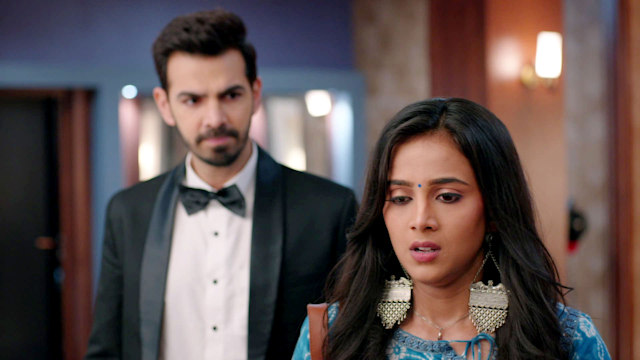 Ritesh: Do you remember that we have to return the child to Prateek Bhaiya's house?
Indu: Oh yes. But I'm very attached to Kiara. Now I can't live without him.
Ritesh: The same is the case with me. How do we leave it with them?
Indhu: Why don't we adopt the child and take care of his whole life?
Ritesh: Indhu, we are together for one year. Later our company will send us to two countries. You will be in Dubai and I will be in Canada. Until then we are just living together. And who will take care of the child at that time?
Indu: I don't know all those things. Kiara is my girl, that's all.
Ritesh: Indhu, what will people think? The people of this neighborhood do not know our reality. If they find out, they'll send us from here.
Indu: So what? We have some house. We are both orphans.
Riteish and Indhu recall another flashback from their childhood.
Matron: We are closing this ashram. Now they both have to find another place.
Indhu: But where shall we go, madam? Other children from these orphanages have been adopted by some people. But nobody came to accept us.
rite; Ma'am, please don't send us.
Matron: I am helpless. There were only 8 children from this ashram, the rest were adopted by some couples and this ashram is being lost. I am also an AIDS patient and my days are numbered. I have not paid the rent in full. In this condition I cannot run this ashram.
Ritesh: Madam, you are like our mother. We can't live without you.
Matron: Try to understand Bachan. I can't do anything. I'm going to the hospital to do a cleaning job. There is no one to take care of me if I live or die. My disease is dangerous and can negatively affect you. Please forgive this matron. Keep this money with you and take that bus and go to Bangalore. Ritesh, I'll give you a card. Both of you should go to this address and deliver this letter. They will help you.
Indhu: Matron, don't leave us.
Matron: There is no beta option. The matron put them on the bus and shook their hands as the bus left. Ritesh and Indhu looked at her with teary eyes. They both arrived in Bangalore after a two-hour drive. The city was new to him. Still they managed to find the address given by Matron Mam.
Prabhakar: What is the problem? Didi had already left home with that Mohammed because her mother did not approve of her marriage as it was a Hindu-Muslim marriage. Didi started running an orphanage after Mohammed's death and now she is suffering from AIDS and she also presented these two burdens for me.
Hearing this, Ritesh and Indhu felt sad.
Target: Prabha!!! Your didi is crazy, let me tell you that if she dies, you should never go there.
Prabhakar: Why would I go there? I've always hated it. Bachchan just get out of here. I can not stand you
Objective: Wait! prabha just a minute
Lakshya called her husband Prabhakar inside and whispered something.
Prabhakar: Both of them can stay here under the same conditions. He has to do housework.
Ritesh: But we are children and we have to go to school.
Objective: think well. If you don't stay here and leave, you'll face bigger threats. There are some people who kidnap children and make them blind, beggars, etc.
Indu: No!! Please don't say anything about it.
Prabhakar: So start working now. We will give you food three times a day.
Indu: But our studies
Goal: Study!! Orphan boy!!! Who cares if you're reading or not.
Ritesh: If you don't send us to school, we won't be here.
Target: They are both child laborers here. If you don't listen to me, I'll hurt you both.
Lakshya started beating him with a stick. Ritesh and Indhu groaned in pain.
Indu's eyes were wet with tears. Ritesh takes her hand and calls her
Rite: Hindu
Indhu: Riteish We have faced all the struggles, all the difficulties. For a while I went back to the bitter days when we were treated like slaves.
Ritesh: Indu!! Never think about it. With a lot of effort we have overcome those things and we are finally here.
Indhu: Ritesh, we cannot leave Kiara an orphan. He must take care of mom and dad.
Riteish: But we are not his parents, we are not a married couple.
Indhu: Then why don't we both get married for Kiara?
Rite: Hindu
Hindu; Look, here we lie that we are a married couple. We have to go through some paperwork to legally adopt Kiara. We will privately record the marriage just for Kiara.
Riteish: And what about going to Dubai and Canada?
Indu: I'm not going anywhere except Kiara. you have to go you are young
Ritesh: I'm not going either. If we refuse to accept the project after working here, the company will transfer the penalty. Or maybe we'll lose the job. But we can find another.
Indhu: Thank you Ritesh for agreeing with me.
Ritesh: After all, the lie will turn out to be the truth. We are both going to get married.
Indhu: Ritesh, we have to do it alone tomorrow.
Next day
Valsa: You guys are already married, why are you doing this?
Indhu: It was a liar to get the house. Because your neighborhood will not give flats to single girls and boys. So we pretended we were a married couple.
Waltz: What? But Kiara?
Ritesh: She is not our daughter, we have adopted her. Actually, we came here through security personnel Prateek Bhaiya. At that time I had gone to meet the president of your colony. He was asking me where my wife is and if I have a child. Prateek Bhaiya lied saying that Indhu and I are married with a child. Kiara is actually from the chawl where she lives, her parents are gone. Only her Kaká and Kaki are present there with her children. They don't want to take care of baby Kiara. I paid some money and bought Kiara because she was tortured a lot of her and because of that it affected her small legs. When she is older she cannot walk without the help of a cane or crutches.
Valsa was shocked to hear this truth.
Subscribe to Our YouTube, Instagram and Twitter – Twitter, Youtube and Instagram.