Father Benedict was amazed to see that a spirit was following him.
dad ; Steve, you just held Kamali's hand.
Steve: What?
Kamali: Dad, what are you saying?
Father: Do as I tell you.
Steve gently took Kamali's hand.
But before long someone pushed him and he fell to the ground screaming. Kamali shouted: Rajkumar ji!!!
Steve was surprised because there was no one in sight. Kamali faints. Soon Steve sprays drops of water on her face and she wakes up.
steve: are you ok?
Kamali: Yes, and you!! who pushed you
Father: That's what I was saying that a soul is troubling you both. As long as you are united, he will try to harm you.
Steve: What? Dad, I don't understand anything.
Father: I am also trying to find things. Now tell Kamali why you named him Rajkumar ji.
Kamali: Me!! Father, I don't know him, why should I call him that?
Steve: Dad, who's right, when someone pushed me, you screamed Rajkumar and passed out.
Kamali: But I can't remember anything.
Father: Something is connecting the two of you and look, you both came to me with the same question, why do you both feel like someone is following you? One thing is for sure: there was only a spirit pushing Steve, it was not a human force.
Steve: What does that force want from me?
Father: I don't know, but you two will never rest until we get what we need. It will do a lot of damage to both of them. Until now you two were not supposed to know each other, but now that you both know each other, he will try in every possible way to harm both of you.
Kamali: But why dad?
Father: You can both bring your birth certificate tomorrow. I'm going to get a hint out of that, I guess.
Steve; Will you push me again, father?
The father gives both Steve and Kamali holy water.
Parent: If you both feel the spirit attacking you, spray it right into the air. It will be gone. It is not visible to you because so far we have not discovered what the relationship is between the two of you.
Kamali and Steve take holy water and leave. They were thinking about what was happening to them all day.
at Kamali's house
Kamli; Amma, where is my birth certificate?
Amma: Yake, Yenathu [Why, what happened ]
Kamali: I need this for the verification process at the hospital.
Amma: There is no such certificate, Kamali.
Kamali: What? Yake naan nimma magu allava? [Why am I not your daughter ]
Amma: Neenu Huttidhu Bangalore Ali Alla, Neevu Huttidhu Ondhu Gramadhalli- Shravanpuri [You didn't take birth in Bangalore, you was born in a village named Shravanapuri.] Your Appa and I had gone to that village to receive Durga Devi's darshan and I was pregnant at the time. On the way I felt severe pain and as it was a very rural area there were no clinics or hospitals of any kind. With the help of some villagers they took me to a hut and some old ladies take care of me and I gave birth to you there.
Kamali: So what happened Amma?
Amma: Please don't ask anything about that day. Every time I think about that day, I get scared. Please….
Kamali was shocked by this truth.
A similar experience happened to Steve when his parents told him that he too was born in Shravanpuri. The next day, they both went to meet Father Benedicts.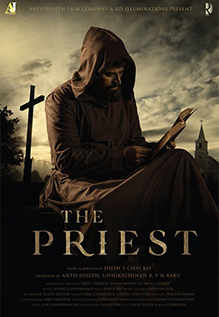 Steve and Kamali are shocked to see that Father Benedict was reading a book sitting next to a tombstone in the cemetery.
Kamali: Dad, I'm sorry I couldn't get the birth certificate. In fact, I was not born in the hospital.
Steve: Me too father. In fact, I wasn't even born in a hospital. I was born in a town called Shravanpuri.
Kamali: What a coincidence, my mother told me that she gave birth to me in Shravanpuri.
Dad smiled and closed the book. You can both put your hands on this book and close your eyes. Whatever happens, never open your eyes. Be brave and do it.
Steve and Kamali nodded, put their hands on the book and closed their eyes. She soon began to see some signs of her past life.
Kumud: What are you doing prince?
Saras: I see how beautiful my Kumud's eyes are. I would love to twist your messy hair as gently as ever.
Kumud: Are we doing it right? You are from a royal family and I am the daughter of a farmer. How can we both live together?
They couldn't see things properly because the soul started blowing air from both sides and making strange sounds. She tried to push them away but the cruising spirit was unable to do so due to the father's intervention. But to his great astonishment, the book went up to heaven.
Steve and Kamali opened their eyes and looked at each other.
dad ; Now they both call each other by their real names.
Steve: Kumudo
Kamali: Rajkumar Saras hee!!
The father spoke a few words and the book came back to him. Steve and Kamali put their hands back on the book. This time the soul was filled with anger. He tried to catch Kamali.
Father: Saras took Kumud's hand. Only you can save him.
Subscribe to Our YouTube, Instagram and Twitter – Twitter, Youtube and Instagram.