Ravi Shastri said, It has been a long time since I have seen a match like this.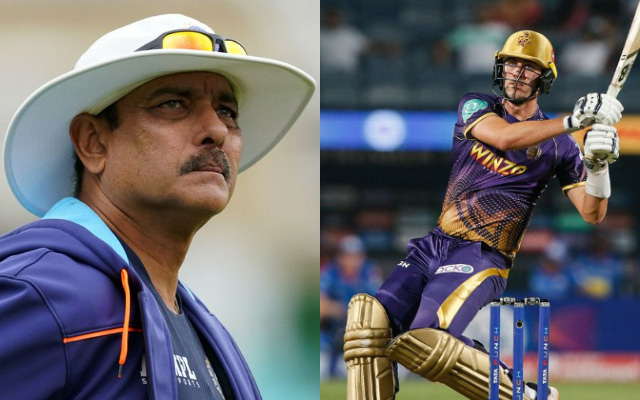 match of 14 IPL 2022 An entertaining contest saw KKR and MI pitting themselves against each other. However, the name of the night fell on just one man and it was none other than Pat Cummins who got furious with the bat, scoring 56* for 15. Cummins chased down 162 runs to score the joint-fastest fifty in IPL history and wrapped up the game with four overs to spare.
In the same light of events, former Indian head coach Ravi Shastri spoke about how Cummins literally ruined a good game of cricket. It was certainly a bitter pill to swallow as the Australian wreaked havoc with the bat as he walked the field. Shastri also said that 35 runs in an over is unrealistic as Cummins slammed Daniel Sams (for 35) at all corners of the ground.
"It's a bitter, bitter pill to swallow. That was bizarre. It's like someone is giving you chocolate and before you can say 'thank you,' it's in the other guy's mouth and he's saying ' Thank you.
It's been a long time since I've seen such a match: Ravi Shastri
"It was unrealistic. 35 runs in an over. You have to start thinking when you see a match where the other team has an edge to a certain extent. Then it's probably 60-40 towards Mumbai Indians. Come the next over, It's over. It's been a long time since I've seen a match like this and I've seen a lot of cricket."
Speaking during the post-match presentation, MI skipper Rohit Sharma also said that it will be really difficult to digest. The match looked largely in favor of MI in the middle but cummins spoiled it all. Cummins also started the all-round show by taking two wickets in the same match.
"As Rohit Sharma said, it will not be easy to digest. Striking look, he was picking up his spots, everything coming off the flesh of the bat. Even that wrong shot almost went all the way, very good effort (on the field) but it was a no ball. He ran two, hit the next one for four, before you can even blink your eyes, the last one went for six and that's it. Games, sets and matches. It is as if someone passing by would say to him, 'Thank you for spoiling a good game of cricket,' he concluded.


Subscribe to Our YouTube, Instagram and Twitter – Twitter, Youtube and Instagram.
Related