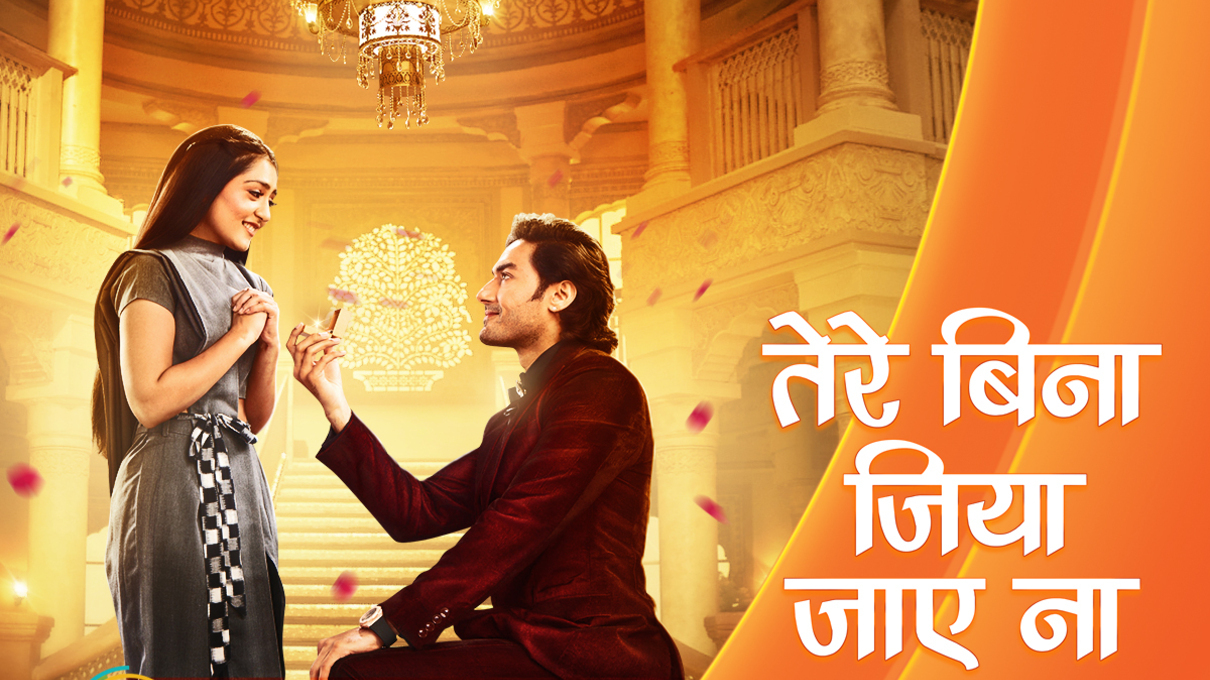 Tere Bina Jiya Jaye Na 11 April 2022 written episode, written update on UttarPradeshLive.Com
scene 1
Jaya comes back and Krisha bumps into her. She asks where was she since morning? Jaya says I was around. Krisha sees a mark on her neck and asks what happened to her neck? Jaya remembers someone strangled her and says I was wearing a necklace which was too tight. Krishna nods and leaves.
Krisha comes to the temple and sees Rati crying. She asks what happened? Rati says it is nothing. Krishna says tell me. Rati says Raghav has some doubts about me and thinks this child is of Aarav, he wants to get DNA test done. Krishna says how can he think like this? She calls the doctor and says you don't need to come for any test. She tells Rati that in a relationship there should be trust and you don't need to prove about your character, I am always with you. Rati thanks him and leaves. Krisha comes there and thanks God for giving her the best husband.
Krisha starts getting ready and imagines Dev around her. She says both my dreams and reality are beautiful now. She says I am missing her.
Krisha comes in balcony and says what will be the surprise for me? She starts walking near the pool and someone drags her inside. Krisha screams but looks back and sees it is Dev. He picks her up and brings her to his decorated room. He says I don't want anyone to come between us today. Krisha says you made me feel so special today. Dev says I should be sorry for treating you badly in the past. He says we will forget the past with hatred and start a new life together. I was afraid to lose you. Krishna says no one can separate me from you Devraj sir. Dev says stop calling me sir, you can call me Dev. Krisha says I like to call you Devraj sir, it is special. He really says? He picks her up and puts her on the bed. Fire and play. Dev says my heart is filled with love tonight. Krisha says no one can cast evil eye on us now. Dev is about to kiss her but her phone rings. He takes the phone and says no.. I am calling doctors. Take him to our emergency room. He leaves from there. Krishna sees.
Dev and Krishna come to the emergency room and find a Maharaj lying on the bed and badly injured. Krisha asks Jaya who is she? She says he is Maharaj Man Singh, he has done us a favor and saved Dev's father's life once. The doctor says that his internal injuries are serious and he does not have much time left. Dev asks about his queen. Maharaj says he left me and it's time for me to leave. Dev says don't say that. Maharaj says I don't have much time left, my daughter Vamika will be alone after my death so my last wish is that you make her a part of this family as Aarav's wife. Everyone is shocked. Meenakshi thinks it is perfect.
Aarav comes home with his girlfriend Aditi and says I don't care if my parents don't accept you. I just want you to meet him once as a formality and then we can start our life. Aditi says don't be so negative, we can convince them. I will win their hearts with my gifts. Aarav says you can try but I don't care if they don't accept you.
Meenakshi tells Maharaj that we are lucky to make this proposal. Dev says we should talk to Aarav about this. Kach says Aarav has already told us that he will marry where we want him. Maharaj says I want Dev to promise me that Vamika will marry in this house. Dev says I promise you that Vamika will be our responsibility now. Krisha is tensed and tells her that she should have talked to Aarav. Dev says that Kach has already spoken to him and he should think about the honor of the family. He asks Krishna to take his side in the matter. Krishna sees. Aarav is coming in the room but the guard says that only family members can enter the room. Aarav drops Aditi at the door of the house.
The episode ends.
Update Credits: Atiba
Subscribe to Our YouTube, Instagram and Twitter – Twitter, Youtube and Instagram.