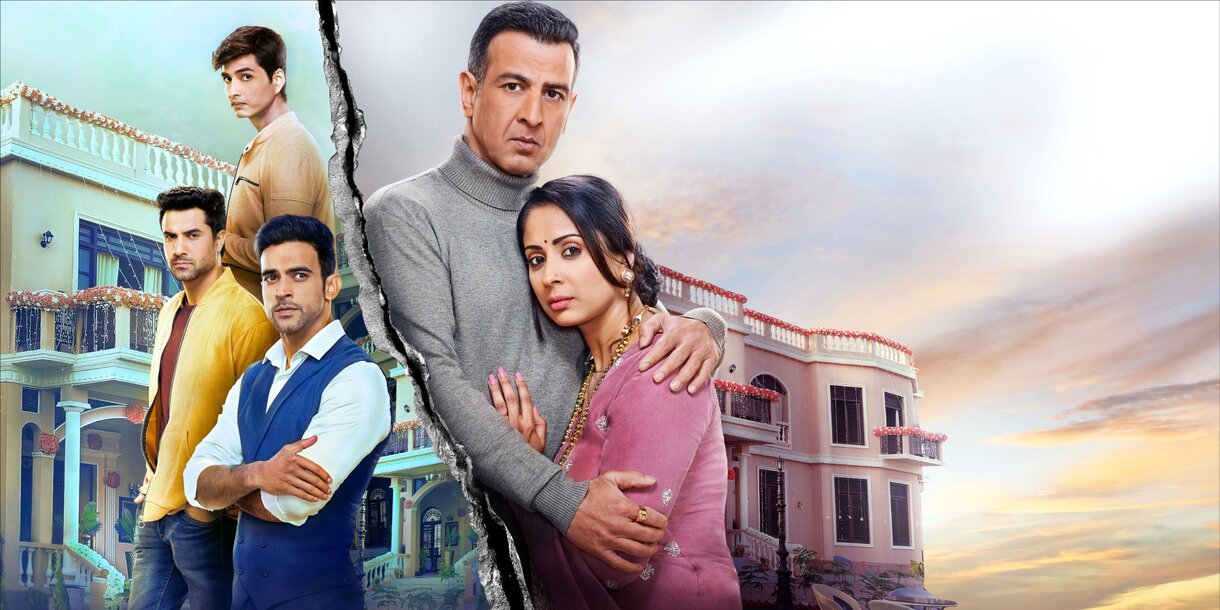 Swarna Ghar 11th April 2022 Written Episode, Written Update on TeleUpdates.com
The episode begins with neighbors gossiping about Ajit and Swarna. Shorvori scolds them and says Ajit is fighting for a woman, and you are calling her bad, you should be ashamed. Ajit stands there till the rain stops. He looks at the gold. Nimmo comes there and says I want something that everyone can spit on Swarna's face. Swarna asks Ajit to go home, he will fall ill. Nimo smiles seeing them. Jai asks Ankita what is all this. Ankita says I have read letters, father had relation with Swarna, you read it yourself and see when it was written. Ajit gives the umbrella to Swarna. She asks him to change clothes. He says I am fine. He sneezes. She tells him to dry, iron and put his clothes back on, then goes home. Ankita says that father was writing her letter. Jai says I can't believe it, dad can't break his morality. Swarna asks Ajit to go to the guest room and iron the clothes, then goes back home. Nimmo says my work got easy, he entered the house. She comes inside the house. Swarna finds Ajit's phone ringing. She replies and talks to Ajit's grandson. She says ask him to come home early. Ankita says Ajit is there. Swarna calls Neelu. She says Ajit got a call from home, go and give him the call. Ajit ironed his kurta. Nimmo hides from Neelu. Neelu gives her phone and leaves. Ajit remembers Jai's words. He calls Jai. Jai asks where are you. Ajit says I have left for some work, I will come home and say. Nimmo thinks now this will be breaking news.
Jai says father is lying. Ankita says that she is in his house with Swarna. Nimmo clicks Ajit's picture and says it will become a title now. he turns. She hides. His phone falls. Ajit looks out the window. He asks who is there. He thinks what should I do, whether I should go or not. Nimmo gets mud on his face. She looks for her phone. She says phone broke. She goes home. Kiran tells her not to get lost and beg. Nimmo says this is me, your mother. Balbir comes and says ghost. Kiran says she is mother, look at her. Nimmo walks in. Balbir tries to fix the phone. Nimmo says I will show you shirtless picture of Ajit in Swarna Ghar.
Its morning, Swarna thinks I have to stand up for myself now. Kiran says I can't understand your mother, Ajit was in Swarna Ghar at night, he was ironing his kurta. Yuga asks what? Nakul and Vikram ask did you see her. Nimmo says I have seen her, Swarna came to give her umbrella. She tells them everything. They get angry. She says that he was not in kurta but only in vest. They go Nimmo says the real drama will start now. Swarna says I don't think anyone would want to come and stay here. Swarn ends the call with Shorvori. Her sons come home and ask where is your friend Ajit. She asks why did you come here. Nakul says you are still my mother, you cannot do such things which makes us ashamed. Vikram asks was Ajit with you last night. She says you lost your right to question me when you blamed me for your father's death. Vikram says we have to search for truth, we have to find that Ajit. They search the house. They see the neighbor girl. She asks what happened, are they troubling you, tell me, they know the power of media. They go Swarna asks what are you doing here. The girl remembers Ajit and asks for his help. She asks for money. He says you will get money, you have to take care of gold. She said Ajit… Swarna gets a call from Mickey and asks what happened, all is well. Mickey says my mother-in-law and husband are troubling me, Ginni is also troubling me, I have to take Ginni's grandparents to school, but my parents are not with me. She meets with an accident. Swarna hears her scream. Mickey falls on the road. The man says that the woman had an accident. Swarna goes to the hospital and takes care of Mickey. She says the man who did your accident paid the bill too. Mickey goes to thank the man. She looks at her father and says Papa…. Golden remembers about Mickey.
Mickey says please it was my fault, take Ginny and me back. The man says that I have no daughter. Swarna consoles Mickey. She says you and Ginni can come and stay with me, I am making Swarna Ghar a working ladies hostel, will you come.
episode ends

Update Credits: Amena
Subscribe to Our YouTube, Instagram and Twitter – Twitter, Youtube and Instagram.