Mohammed Shami's fielding efforts did not go down well with Hardik as he was seen yelling at the veteran pacer.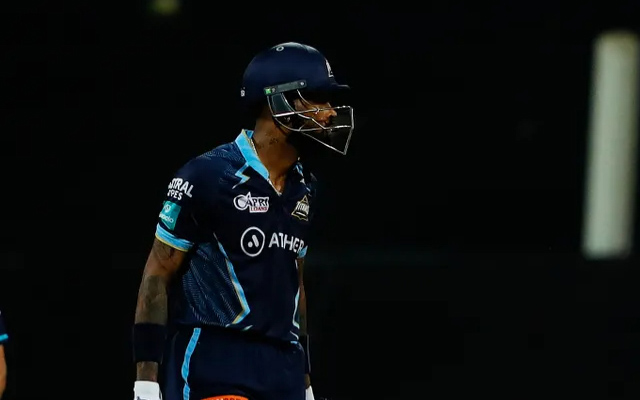 Hardik Pandya's captaincy has certainly been impressive in the current times Indian Premier League (IPL) 2022, Standing in his maiden leadership act in the competition, Hardik led Gujarat Titans to three consecutive victories before an eight-wicket loss against Sunrisers Hyderabad on Monday (April 11). While Hardik did well in the game with both bat and ball, it looked like he lost his cool defending a total of 162 in Mumbai.
Hardik, who conceded just five runs in his first two overs, was cleaned up by his SRH counterpart Kane Williamson in his third over. He hit the fast bowler for two consecutive sixes as the Orange Army took charge after a slow start. Significantly, in the same over, Hardik had a chance to dismiss Williamson's batting partner Rahul Tripathi.
Tripathi mishandled a pull shot off Hardik's well-directed bouncer and the ball went to the third-man boundary, where Mohammed Shami was well. While the speedster had a chance to take the catch, he chose the safe route and stayed behind to save the boundary. This did not go down well with the GT captain as he was seen shouting at the veteran pacer.
GT not because of Hardik Pandya's captaincy but lack of runs: Graeme Swann
While a section of fans criticized hearty ki The captain, former England spinner Graeme Swann came out in his support and said that a captain's nerves can be drained in such an intense match. "I'll tell you what we shouldn't do. We shouldn't watch it and suddenly say that Hardik is not a good captain. The fact that he didn't score enough runs, he lost the game, not Hardik Pandya's captaincy, Swann said on Star Sports.
"He shuffled his packs quite well, but of course, as a captain or bowler (in tense situations) your nerves get a little fried. It was not Hardik's captaincy but the lack of runs that cost him. Former Australia opener Matthew Hayden, who was part of the same panel, also criticized Shami for not taking the catch.
"I think it was a really important moment in the match, he was bowling at a good pace. Mohammed Shami was on the boundary and didn't make any effort. In fact, he came back to the boundary, I don't. Would say he avoided the necessary catch." Hayden said.
"He really needed to go inside the boundary more. When you're not defending much, it's really all about working hard for your teammates and catching the effort and pretending. Be it a run out or a catch or generally helps the batsman to stop hitting boundaries.


Subscribe to Our YouTube, Instagram and Twitter – Twitter, Youtube and Instagram.
Related