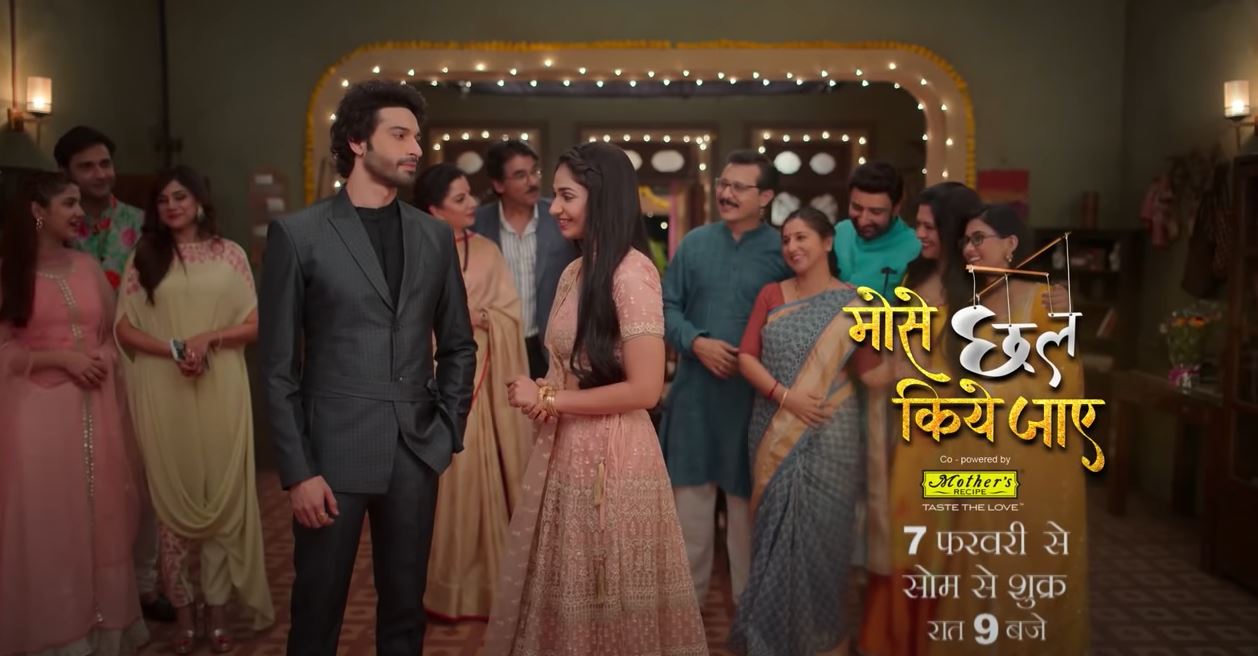 Moose Chal Ki Jaye 13 May 2022 Written Episode, Written Update on UttarPradeshLive.Com
The episode starts with Tara saying that the paper would have gone away. Soumya says I will not go without finding it. He finds paper in dry leaves. She checks. She says it is parking receipt, maybe police did not see it, confirms that car was stolen from lodge, we will take Armaan there. She goes to the lodge and shows Armaan's picture. She asks did he stay here. The girl says no. Soumya says that there was a parking slip on her car. The reception girl remembers Armaan checking in. She says it was Mr Oberoi, I was thinking I saw him somewhere, you are his wife, its fine. Soumya says yes she is missing since yesterday, I am looking for her, can I have water. Soumya sits there. The girl gives him a glass of water. Soumya says I am pregnant, I don't know about my husband, where is Armaan. The girl says room no 21, but she checked out in the morning. Tara asks was he alone or with someone. Soumya asks him to tell the truth. The girl says that a girl had come to meet him. Soumya asks who was she, is she a celebrity, how did she look. The girl says that it is difficult to identify anyone, she was wearing black sunglasses and a dupatta. The waiter says that the woman had forgotten her purse in room number 21. Soumya asks him to give her the purse, will get the information. Girl says no, sorry we respect customer's privacy. Soumya says please call him and ask him to come, it is a request.
The girl checks and calls Prisha. She says you left your purse here, are you coming to pick it up. Prisha says yes, I am coming now. She worries. She says how did I make such a big mistake. Soumya waits there. A girl comes wearing sunglasses and a dupatta. Tara and Soumya are there. Girl asks for purse. Soumya asks who are you, show me your face. They see the girl's face. Girl takes purse. Soumya asks why did you come to meet Armaan, where is he. Girl says I don't know, I got what I wanted from her. Soumya asks who are you. Girl says ask your husband, doesn't he tell you anything, if you love him, keep him safe, he was sad, he was feeling guilty, keep me away from this matter. She goes. People stop Saumya and ask about Armaan. Malini takes care of Sushma. Soumya and Tara come home. Sushma asks where is Armaan.
Tara says Saumya is trying a lot to find him, he left on his own, it is not his fault. Harsh comes home. He says it is Saumya's fault. He scolds Saumya for making Armaan's rivals successful in ruining Armaan. He says when I spoke to Armaan last night he was very sad, he was saying that he worked a lot to make this empire, now there is nothing in his life, now I am afraid that my son is wrong. takes steps, if anything happens, you will be responsible. Soumya cries. His father defends him. Harsh says I don't know whether Armaan is alive or not. Sushma ran to pray. Kashish scolds Saumya for not caring about the family. Soumya remembers Harsh's words. He gets dizzy. Tara takes him to the room. Malini asks Saumya to drink soup. Soumya asks if Soumya is fine, did police or Goldie say anything. Goldie comes and says I have come myself, we will find her soon. He gets a call. He says I will come later. Saumya watches the smartwatch and remembers Armaan using her smartwatch. She says we can find Armaan from his watch. Prisha says but Saumya, she always wears it. Soumya says her phone and watch are synced, if we find her phone then we can find her, police have her phone. Harsh comes there and asks her to come. Sushma prays and lights the lamp. Soumya leaves. They reach a rocky area. They look for Armaan. Soumya shouts Armaan. They see Armaan on the edge of the cliff. Harsh asks Armaan to come back, please don't do this. Armaan cries seeing them. Goldie says forget everything. Armaan says I have done everything wrong, I have cheated Saumya, I lied to her, I am sorry.
Precap:
Soumya says you did wrong with me, you have to give love to me and our kids. He falls down. She screams Armaan…

Update Credits: Amena
Subscribe to Our YouTube, Instagram and Twitter – Twitter, Youtube and Instagram.