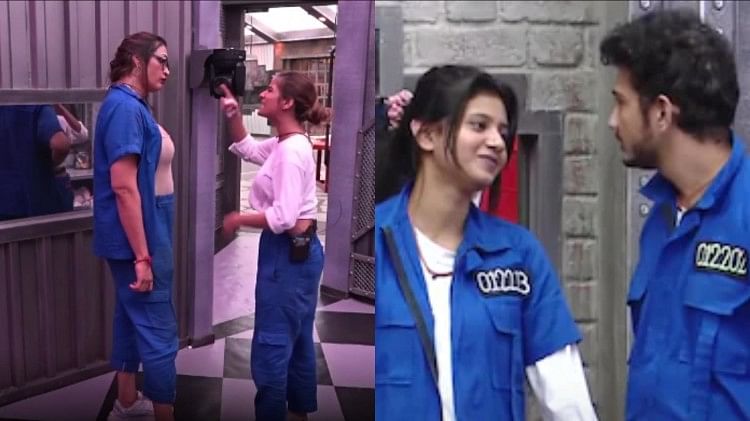 Published by: Megha Chowdhary
Updated Mon, 11 Apr 2022 06:16 PM IST
Summary
Recently, it has been revealed that Munavvar is married and the father of a child in the lock-up. However, fans love to see Anjali Arora and Munavvar together in the show. At the same time, now the show's contestant Poonam Pandey has talked about the relationship between the two.
Poonam Pandey, Sayesha Shinde, Munawwar Farooqui, Anjali Arora in Lock Up
– Photo : Social Media
Expansion
Munawwar Farooqui is the most talked about member of Rangana Ranaut's show 'Lock Up'. Recently, it was revealed that Munavvar is married and the father of a child. Fans love to see Munavvar pairing with Anjali in the show. Both are very good friends of each other and recently Anjali had also admitted that she likes Munavvar. In such a situation, now the contestant of the show Poonam Pandey was seen talking about the relationship between the two.
Actually, a new promo of the show has surfaced, in which Poonam Pandey is seen talking to Saisha Shinde about Munavvar and Anjali. Poonam says that Anjali has become famous by making four reels during the Corona epidemic. My friendship for him was heartfelt, but even my enemies could not find a friend like him.
At the same time, for Munavvar, she is seen saying that Munavvar always saves Anjali and is romancing 21-year-old girl Anjali in the show by hiding his marriage. At the same time, you have been kept hanging (Saysha). Along with this, while talking about Anjali's boyfriend, she says that she has a boyfriend, yet she is doing all this. At least it is not cheap enough to use my friends.

Let us tell you that on the Judgment Day of 'Lock Up', Kangana showed Munawar a photo and asked if he recognized it. In the photo, Munawwar was with a woman and a child. Munavwar does not talk openly on this, but confirms that she is his wife and son.
,



Subscribe to Our YouTube, Instagram and Twitter – Twitter, Youtube and Instagram.