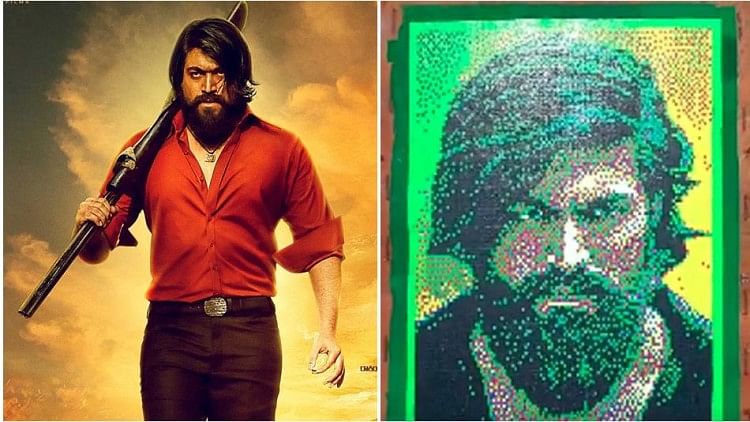 Published by:
Updated Tue, 12 Apr 2022 02:35 PM IST
Summary
Ahead of the release of Yash's film KGF Chapter 2 in Karnataka, fans have created a picture of the actor with the help of books. Whose video is going viral on social media.

photo of yash
– Photo : Social Media
Expansion
After a long wait, superstar Yash's film 'KGF Chapter 2' is releasing tomorrow i.e. on April 14. Apart from Yash, it also stars Sanjay Dutt and Raveena Tandon. Even before its release, this film has started making a splash. Even before the release of the film, fans are showering love on Rocky Bhai (Yash) in different ways. The magic of Kannada film superstar Yash is raising the heads of the fans at a high level. A video is going viral on social media, in which Yash's fans are seen making his picture with the help of books.
photo with the help of books

Fans in Karnataka have claimed to have created the biggest picture of Yash. It can be seen in the video going viral that first of all, books are being collected to make a picture. After which a 130X190 feet mosaic picture of Yash has been prepared in the garden spread over 26,650 square feet. This photo has been made with the help of about 20,700 books. The world record is also being claimed for making such a big picture. The image made in the ground has been captured with a drone.
Big Bigger Biggest!!

We had planned for 120×170ft but it surpassed our expectations… We had to expand it to 135×190ft which covers an area of ​​25,650 Sqft which is the world record ️@TheNameIsYash#YashBOSS #KGF2 #KGFChapter2 pic.twitter.com/qJf0G0NhrK

— Team Yash FC (@TeamYashFC) April 11, 2022
Craze seen in Karnataka
In Andhra Pradesh, a different craze of Yash's fans is being seen. Here the fans started bathing Yash's picture outside the theater with milk. There is such a craze among people about Yash's film that a company has given leave to all the employees on the day of the release of KGF 2. However, in South India, there is a different level of craze among the fans for their superstars.
Advance booking done

Bumper advance booking is happening even before the release of Yash's film 'KGF Chapter 2'. People are so mad about Yash's film that this film has surpassed 'RRR' Hindi in advance booking. The shows of this film are going to start at six in the morning in many cities of Maharashtra regarding advance booking. It is also reported that in some cinema halls of Delhi and Mumbai, its ticket rates have reached up to two thousand rupees per ticket.
,



Subscribe to Our YouTube, Instagram and Twitter – Twitter, Youtube and Instagram.