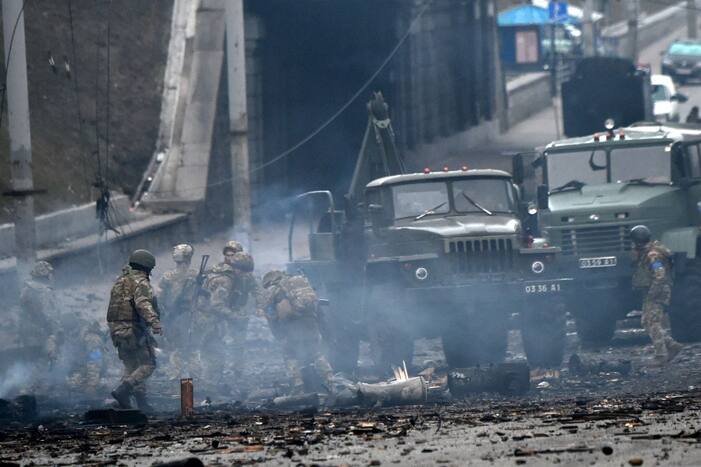 An Indian medical student from Karnataka killed in Russian missile attack on Kharkiv Governor's House/City Hall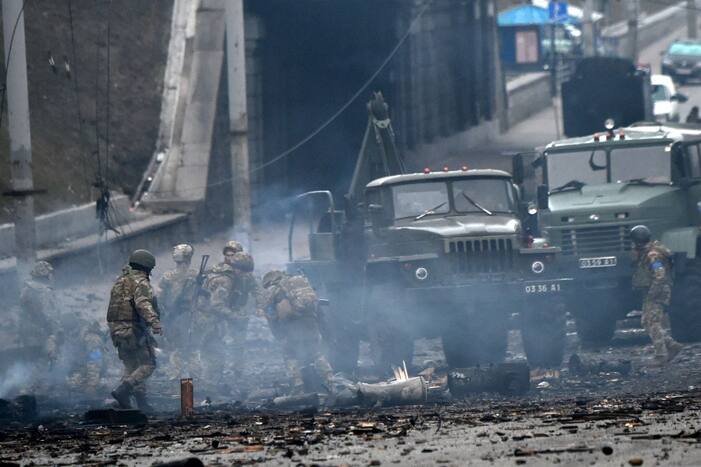 Ukrainian service members collect unexploded shells after a fight with a Russian raiding group in the Ukrainian capital of Kyiv on February 26. (Photo: AFP)
Ukraine-Russia conflict: The Ministry of External Affairs on Tuesday confirmed the death of an Indian student in the eastern Ukrainian city of Kharkiv. The Indian student has been identified as 21-year-old Naveen Shekharappa Gyangoudar from Karnataka. He was a fourth year medical student at Kharkiv National Medical University. The Ministry of External Affairs wrote on Twitter, "It is with deep sadness that we confirm that a student lost his life in a gunfight in Kharkiv this morning. The Ministry is in touch with his family. We extend our deepest condolences to the family."
"The Foreign Secretary is calling on the ambassadors of Russia and Ukraine to reiterate our demand for immediate safe passage for Indian citizens who are still in Kharkiv and cities in other conflict zones. Similar actions are being taken by our ambassadors in Russia and Ukraine as well."
Karnataka Chief Minister Basavaraj Bommai also spoke to the family and assured that all Efforts will be made to bring Naveen's body back to India. ,Haveri district student Naveen Shekharappa died Ukraine, CM Bommai spoke to his father. Every effort will be made to bring Naveen's body back to India. The CM said that talks are being held with the officials of the Ministry of External Affairs on this matter," the CMO of Karnataka informed.
Earlier, India urged all its citizens to leave Ukraine's capital Kyiv "immediately, by trains or by any other available means". "All Indian nationals including students are advised to leave Kyiv immediately today. Preferably by available trains or by any other available means," tweeted the Indian Embassy in Ukraine.
Notably, around 16,000 Indian students are still stranded in Ukraine. Students have been sharing photos and videos on social media from underground bunkers, subway stations and bomb shelters where they have been hiding since the Russian offensive began last Thursday.
The Ministry of External Affairs said on Monday that around 8,000 Indian nationals have left so far. Kharkiv region chief Oleg Sinegubov said on Tuesday that Russian missile strikes struck the center of Ukraine's second-largest city, including residential areas and regional administration buildings, as Moscow began days six of its offensive.
Russia overtakes Kyiv near Ukraine's No. 2 city and convoy
Russian shelling again targeted civilian targets in Ukraine's second-largest city on Tuesday and a 40-mile convoy of tanks and other vehicles threatened the capital – a strategy Ukraine's president said was Europe's biggest ground-breaking battle in generations. The war was designed to force concessions.
With the Kremlin alienated by tough economic sanctions that have devalued the ruble's currency, Russian troops attempted to advance on Ukraine's two largest cities. Videos posted online show explosions in Soviet-era administrative buildings and residential areas in the region, in strategic Kharkiv, an eastern city with a population of about 1.5 million.
View full report here
Like us on Facebook or follow us on Twitter and Instagram for breaking news and live news updates. Read more about the latest world news at Uttar PradeshLive.com.
Subscribe to Our YouTube, Instagram and Twitter – Twitter, Youtube and Instagram.