I wish you were here – App 21 – Ranveer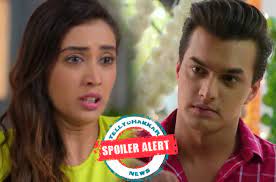 Recap: Sirat
episode
Jaisalmer:
Naira: Hey Khato Maharaj, how did you do all this?
Coach: I don't know, made of different clay, you and Sirat.
Rohan comes
Rohan: Seerat, I want to talk..
Naira: Yes, what happened?
Rohan: I came to know a few things during the attack scene..
Naira: What happened?
Rohan: Seerat won a boxing match that day, and she went to meet Ranveer and married him. I came to know that the conspirators are Mukesh and Narendra Nath
Naira: Ranveer? Narendra Nath?
Rohan: Ranveer is Seerat's boyfriend and Narendra Nath is her father. Narendra Nath does not like Seerat.
Naira: I have to tell Kartik and brother and family..
Naira goes to the coach.
Naira: Coach sir, will let Mare go home,
Coach: Alright, Seerat, see you.
Naira and Rohan leave to go home.
Seerat's house
Maudi: Stealing the lead Sirat, giving water to the star
Seerat/Naira: Neither Maudi nor Mare, don't want Mare, give it to Rohan.
Rohan: No I don't want to, take you Maudi.
Maudi: Tikhe Chora…
Rohan: Seerat, I have to come out and talk..
they go out:
Rohan: I doubt that Mukesh has harmed Seerat and Ranveer.
Naira: I ask Kartik to hire a detective to find Ranveer. What really happened that day is a big question mark!!!!
Rohan: We will get our answers soon. I will continue to keep an eye on Mukesh and Sheela, as she also hates Sirati
Naira: Let me tell Kartik and come, who is this Sheela too?!?!?
Rohan: I'll take care of Maudi till then, and Sheela is Seerat's biological mother, but Maudi takes care of Seerat, as Sheela left them with Mukesh.
Naira shakes her head and calls Kartik.
Meanwhile Kartik is sitting on the sofa, with Akshu and sees Riya coming to him.
Rhea: Hey Karthik,..it will be very difficult for you, won't it be difficult to see Naira as a corpse, to take care of the kids..
Karthik: Look Riya, my Naira is not a corpse, she is not a corpse, if you have said such a thing..
His phone rings and it is Naira. He calls Gayu and gives Akshu to him. He goes to the garden to talk.
Kartik: Yes Naira
Naira: Karthik listen to me carefully, Rohan has told me the things that happened that day.. what does he know..
she tells him everything
Karthik: So..he planned to get married that day but before that he was attacked..and Ranveer is also missing which creates doubt on Mukesh as he attacked Jodi..
Naira: Hano
Kartik: What is Karna? Where to find him?
Naira: Don't know Mendak..the day Rohan found Seerat on the streets..Maybe someone found Ranvir and that is where he got kidnapped?
Karthik: It will not happen Naira. i am starting my work on mission find ranveer now
Naira: How are you kids? Is Kairav ​​doing his exams well- his exams.com-
Kartik: Naira don't stress all that, if I can't take care then Naksh Kirti, Dadi Maa others are here right.
Naira: Here is only my body.. My mind is always around you guys-
Karthik: Don't worry, everyone is doing well
Naira: Well Riya has come? how is she?
Karthik: Yes he has, don't know
Naira: Oh..how is she looking? How are you looking?
Karthik: Obviously like a human..why? And if you want to see it, watch:
Naira: Nothing
Karthik now realizes why
Karthik: Acha ji..protective..don't worry lioness goenka, this mendak goenka will never meet any other girl
Naira: Let any girl dare to woo you, Medak should try
Karthik: Otherwise what will you do?
Naira: Will make lemonade and drink it
Kartik laughs
Naira: Care Mendak, and say the same to Bachao:
Karthik: You take care.. you are living in danger
Naira: Yes, by Mendaki
Naira disconnects the call and goes home. she runs into mukesh
Mukesh: Oh girl..
Naira: Mara naam sirat hai..Sirat Mary Kom shikawat… Mare panch se na sarpanch bhi dare.
Mukesh: Oh really – it's been so many days since you came back to the door of death.
Naira: There is a relationship of birth.. will not go so easily.. Ek maru ji kikeshwar-
Saying this Naira comes to the house. the scene freezes
Goenka Villa
Riya goes to Akshu crying. she holds him in her arms
Riya: My sweet baby girl..Dear baby, don't cry!
She takes Akshu inside the room and
Riya: Reena Akshara crying like this, I will impress your father with the car-
Suddenly Gayu and Keerti arrive
Kirti: What are you doing with Akshu?
Gayu: Yes, give it to me
Gayu takes Akshu
Riya: She was crying..
Kirti: She was crying for milk.. We went to get it and we returned she was missing. Riya is a guest..to be a guest, otherwise it will not be good.
They leave with Akshu and leave. Riya stops and stares diabolically. Kartik sees Akshu with Gayu and Keerti and goes to them.
Karthik: Bring Akshu, I will feed him, Akshu is my little lioness..
Kartik takes Akshu and takes her with him to the garden.
Karthik: Akshu, chotu lioness, sorry papa could not spend time, once Ranveer and Sirat meet, then I will be with you and your Kairav ​​Bhaiya.
Just then Naksh calls Kartik.
Kartik: Naksh.. how are you?
Naksh: I am ticked, and Karthik I have told everything to the detective.. He said that he will start working from today itself, and will give us more details and clues when we get it
Karthik: Great.
Naksh: And Naira is fine, isn't it? he is in danger
Karthik: Yes Naksh she is fine..she is working really hard with learning boxing like Seerat..me me- i feel bad i cant be there to help her
Naksh: I can't even believe that you are taking care of saving…..
Kartik nods and smiles. He thinks something up and plans something (revealed in later episodes)
Jaisalmer House – Seerat is sleeping
Someone throws a stone which hits the floor. She wakes up and finds no one there. When she is about to lie down another stone is thrown but this time he hits her. she gets angry. Naira gets up and walks out wearing boxing gloves. she sees someone and is shocked
Precap: Who was throwing the stone?
Subscribe to Our YouTube, Instagram and Twitter – Twitter, Youtube and Instagram.