Alastair Cook demonstrated his strange strategy in the Essex vs Kent game.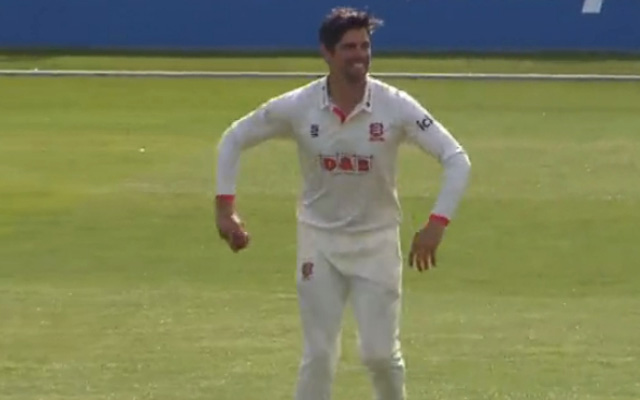 the former England Captain Alastair Cook entertained the crowd at the County Championship with a unique run-up that left the commentators divided. Cook, 37 years now, has been a consistent run-scorer for Essex in county cricket despite announcing his retirement from international cricket. In the Division One game against Kent, Cook swung his hand to bowl Australia's Jackson Bird and he came up with a very attractive run-up.
Cook was watching the fielder offside during his bowling run-up and his arms were spread like a big fast bowler running from a difficult angle. He had a strange smile on his face which certainly showed that he was ready for some humor in the field and also enthused the crowd. The left-hander scored a century in the first innings and then scored an unbeaten 26 in the second innings for Essex as the match ended in a draw.
It should be noted that Cook is regarded as one of the greatest openers in Test history and played 161 Tests for England and scored 12472 runs at an average of 45.4. He is fifth on the overall list of highest run-scorers in Tests and scored 33 centuries and 57 half-centuries from the period of his debut in 2006 until his retirement in 2018. He also played 92 ODIs in which he scored 3204 runs. Average of 36.4. Cook was expected to become the closest batsman to Sachin Tendulkar's 15921 runs in Tests if he had not retired in just 33 years.
Here is the video of Alistair Cook's unique run-up
Sir Alastair Cook, Always Entertainer#LVCountyChamp pic.twitter.com/JRYCeI11oM

— LV = Insurance County Championship (@CountyChamp) April 10, 2022
Meanwhile, England have suffered heavily in Tests after a zero scored by Cook at the top-order and the selectors found it difficult to stick to an opening combination. 0-4 in Ashes defeat Australia It was a testament to how weak the England team has been in terms of their batting since Cook's retirement and it seemed that it was always difficult to replace a player of Cook's quality.




Subscribe to Our YouTube, Instagram and Twitter – Twitter, Youtube and Instagram.
Related