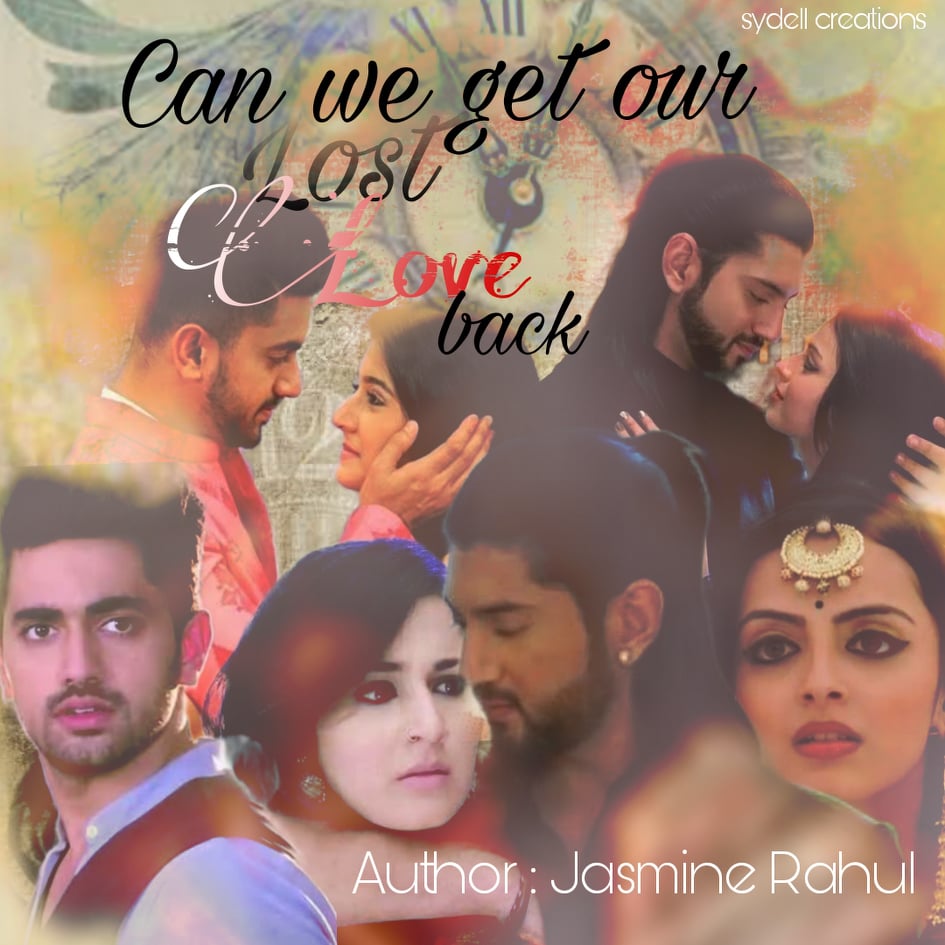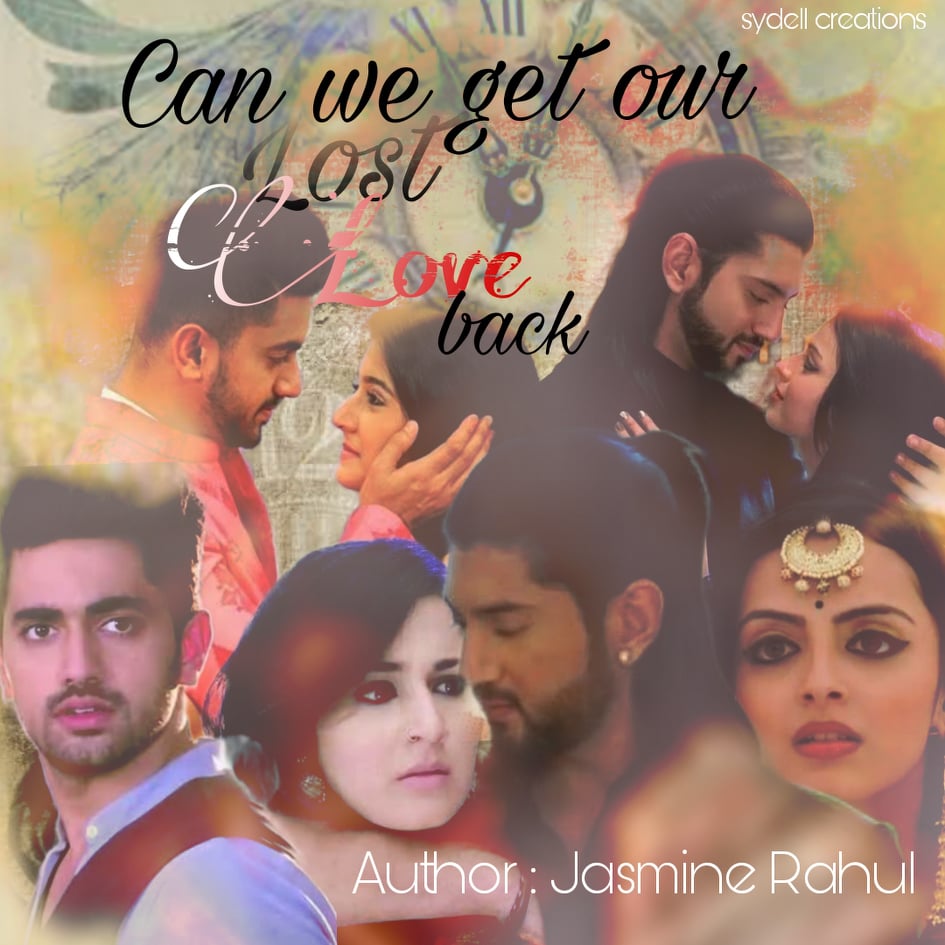 It is inspired from FS Tamil movie Raja Rani with some twists. The story of this FS is different from the film. I dedicate this to Shamina who is my friend's friend. I dedicate this to Shija who requested me to write on this plot, her friend.
Many thanks to my dearest friend Sydel for this lovely cover page.
An engagement ceremony….
The couple started seeing each other.
The boy took the ring to put on his finger. But he did not show it to her. Everyone was confused.
The girl's father Ashish made a pleading look to her. He nodded emotionally.
He extended his hand towards her. Ashish was relieved. The boy put the ring on his finger.
Some glimpse of someone putting a ring on his finger came to his mind. His eyes became watery.
He also put the ring on the boy's finger.
They were Omkara and Avni.
Some other day…
Omkara and Avni were in the restaurant.
They were looking at each other jealously.
Omkara: I'm not interested in dates and all. My parents forced me to come here.
Avni: Don't think I am interested in this date. I came here only because my father requested me.
Omkara: So our parents planned this date together.
Avni: Absolutely. Because they think we'll have a date bring us closer.
Omkara: That will never happen.
Avni: I know. Because we are not made for each other.
Omkara: When I came to see you in your house, I saw that you were not even smiling.
Avani: As if you smiled.
Omkara: Why should I smile when I am not interested in this marriage?
Avni: I'm not even interested. That's why I didn't smile.
Omkara: This marriage is just a pact for me.
Avani: For me too.
Omkara: Glad I have thoughts about marriage. So you wouldn't expect anything from me or our marriage.
Avni: I am also glad that you are not interested in marrying me. So don't expect anything from me.
Omkara: That's it, Alina.
Avni: Alina? My name is Avni.
Omkara: Oh! Whatever! Your name starts with A.
Avni: But my name is Avni. Don't forget Kara Om.
Omkara: Kara Om? My name is Omkara.
Avni: I said both Om and Kara. Just the position of the words changed.
Omkara: But still my name is Omkara.
Avni: Okay fine. How strange that we got engaged, yet we don't even know each other's names.
Omkara: Yes… Right. Because only for the sake of others we are each other's fiancée.
Avani: Yes.
Both Avni and Omkara's parents were sad that they were not coming close to each other. So he arranged an excursion for Avni and Omkara, in the hope that it would bring them closer to each other. Omkara and Avni could not refuse it as they did not. Wants to hurt his parents. But he didn't want to go on picnic alone. So he called his friends to come with him.
Avni's best friend Ali: What is this Avni? How can I come to the tour that is meant for you and Omkara? It's like coming between you and Omkara.
Avni: What the fuck! We are not a couple and we will never be a couple. So why can't you come with us? If you don't come with me, I will be left alone.
Ali became lethargic.
Ali: I thought you'd try to keep this relationship. But you're still in your past. You're not even trying to move on.
Avni said painfully: I can never move on Ali. I prefer to live in my past.
Ali got upset.
Ali: But Omkara…
Avni: He doesn't care because he is also not interested in marrying me.
Ali was shocked.
Ali thought: What a strange relationship! Where will this relationship go? Will this excursion close the distance between them?
Omkara's best friend Agni also came to the picnic spot.
Her foot slipped and she was about to fall. Suddenly Ali caught hold of her. He tightened her. They looked at each other.
Ali: Are you okay?
Agni: Yes. Thank you for saving me. If you had not saved me, the whole journey would have been ruined.
Ali smiled.
Ali: Well, I am Ali. Avni's best friend.
Agni: I am Agni, Omkara's best friend.
They smiled. Suddenly Ali realized that he was still holding her. He released her.
He smiled slightly.
Gauri and Omkara came.
Ali: Omkara?
Omkara: Yes, I am Omkara.
Ali: Hi..I am Avni's best friend Ali.
Omkara: Hi.
Agni: Hi Avni, I am Omkara's best friend Agni.
Avni: Hi Agni.
Agni: You are more beautiful than I expected. Onkara is lucky.
Omkara and Avni looked at each other jealously.
Whispered Omkara: Don't think you'll be able to enjoy this tour. I can't enjoy being with you.
Avni whispered: I can't even enjoy being with a man like you. So get out of my way.
Both turned their faces and left.
He took 2 rooms in a resort. In one room, Avni and Agni planned to stay and the other room was for Omkara and Ali.
They were getting bored. So they gathered.
Omkara: Very boring man.
Avni: A drug to relieve boredom. Ali can sing well.
Omkara: Really?
Agni: That's great. So you sing Ali.
Ali started singing. Everyone enjoyed his magical voice. Agni: You have sung Ali so beautifully…better than I expected.
Ali smiled.
Omkara: Really you are amazing Ali.
Avni: She is a great singer since childhood.
Agni: You two are childhood friends too?
Ali: Yes. We used to study together in school and college.
Agni: That's good.
Omkara was not interested in his words.
They all went out for a walk.
It started raining. Ali opened the umbrella and placed it over the fire as well.
She laughed.
Agni: Thank you so much for taking such care of Ali.
Ali smiled.
Ali: Don't thank me. As a friend, I have to do this for you.
Agni looked at him in disbelief.
Ali: I mean you're my best friend's fiancé's best friend. So that's how we're friends too. Right?
Agni smiled.
He took a sweet walk in the rain under an umbrella.
Omkara imagines that he will romance with a girl in the rain.
Male: Chillena Oru Mazhai Thuli
annai nenaikudhae panna
Siragugal Yaar Koduthadhu:
Neenjam Parkudhae Munna
those wiggly oh ho
Naan Vazgiren Panna
be those kanvugalah
Naan Marine Kannai
man: oh hoo oh hoo oh hoo oh hoo
oh hoo oh hoo oh hoo oh hoo
Female: Ada Karuptia n Chini Kilange
sirichi kavukadha
n kannukuttiya kamma kare
nee couple ottadha
Kannala Pakama Kannalam Pannalama..
Kai korthu poglama..
Male: Konjam Parthu Vidhu
Konjam Pesi Vidu Andrew
En vishigal hayyo annai thitta
Kodai Kala Mazhai
Vandhu Pona Pinnum
Salioram Maram Thanale Neer Sotta
Avni imagines romancing a boy in the rain.
Male : annai thakum puyale
iravodu kyyum veile
Unnale Unnale.. Nuleela
late arrival
Adi Penne.. Adi Kannai
Naan Vilundhal Unpadam Sevane
those wiggly oh ho
Naan Vazgiren Panna
be those kanvugalah
Naan Marine Kannai
Male : Kadhal Vandhavudan Cathal Vandhadhadi
Meendum Naan Pilakka
Muthangal Tharuvay:
cobham colgalam
Kiranga Vaikudhadi Mendum Orumurai
ni cobathil parpaya
Male : Aalai Kollam Azgai
Nizal garbage azgin nagle
Oru nalummmmm.. mmmm..
Quraiyadha Oahu…
Pudhu Bodhai Kannoram
Thandai
Anathalam Mmm Anayadha
Oru Thaiyi Nanjoram
Vandhay..
Adi Idam Valama
Naan Adine Panna
oru idi mazhaiye
Ennai Thakinai Munne
Male : oh hoo oh hoo oh hoo oh hoo
Oh hoo oh hoo oh hoo oh hoo (king and queen).
They both got emotional.
They ignored each other and parted ways.
Post Can we get our lost love back? Rikara Avneel SS Part 1 first appeared on UttarPradeshLive.Com.
Subscribe to Our YouTube, Instagram and Twitter – Twitter, Youtube and Instagram.