New Delhi, JNN. Vulgar row of the Kashmiri archives: Nadav Lapid's statement has now caught fire on social media. At the 53rd International Film Festival of India hosted at the Goa Film Festival, Israeli filmmakers branded Vivek Agnihotri's film vulgar propaganda after watching it. This video of him is now going more and more viral on Twitter and people are expressing their different reactions to this video. Some people are seen tweeting in support of Nadav Lapid and some people are seen tweeting against him regarding the statement made regarding 'The Kashmir Files'. Now, many Bollywood stars have also gotten into the topic of 'The Kashmir Files' and have expressed their reaction on social media.
Swara Bhaskar came out in support of Nadav Lapid, narrated Ranvir Shorey
Swara Bhaskar is a Bollywood actress who is outspoken on all issues, be it politics or Bollywood. Swara Bhaskar also expressed her reaction on Nadav Lapid's statement on 'The Kashmir Files'. The Veere Di Wedding actress shared a photo from the Nadav Lapid film festival stage and supported him, tweeting: "Surely the world now knows what movie The Kashmir Files was." Apart from Swara Bhaskar, actor Ranvir Shorey also tweeted. In his tweet, he lashed out at Nadav Lapid. She wrote on Twitter: "It's not right for any jury and critic to pick a movie and define it in one word." This smacks of politics. Cinema always strives for truth and change, it doesn't try to suppress it. What a shameful display of political opportunity at the IFFI Film Festival'.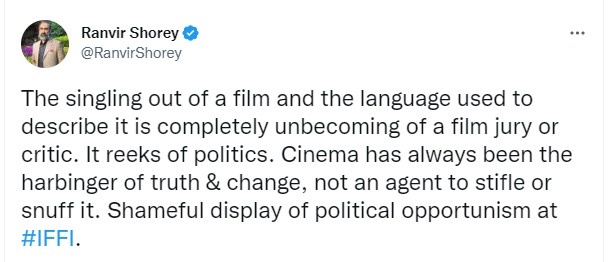 Darshan Kumar said: not vulgarity, it is the truth.
Like Anupam Kher, another actor in the film Darshan Kumar also reacted when Israeli filmmaker Nadav Lapid called 'The Kashmir Files' vulgar. Speaking exclusively to the ANI news agency, he said: 'Everyone has their own personal views after seeing and understanding any movie. But no one can deny the fact that The Kashmir Files is such a movie, which depicts the pain of the Kashmiri Pandit community very well. He is still fighting terror to get justice. So this movie is not based on any vulgarity but on reality.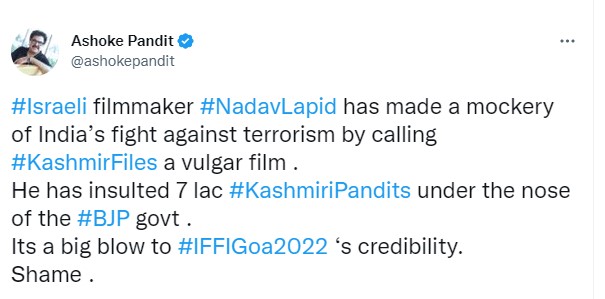 These stars, including Vivek Agnihotri, also responded to Nadav Lapid's statement.
In addition to these stars, the film's director Vivek Agnihotri tweeted after film festival jury member Nadav Lapid's statement, writing: "The truth is the most dangerous." You can make people lie. Apart from this, Anupam Kher not only sadly recounted it through a tweet, but while talking to a news agency, the actor also called it pre-planned and also said may God give him wisdom, we will interpret his statement well and respond. Ashok Pandit, while narrating to Nadav Lapid, called his statement shameful.
Also read: Kashmiri Files: Anupam Kher Said Nadav Lapid's Statement Was Pre-Planned, He Said: Toolkit Gang Activated As Soon As The Statement Was Given.
Also read: The Kashmir Files Vulgar Row: Who is Nadav Lapid, whose statement on 'The Kashmir Files' created an uproar
Edited by: Tania Arora
Subscribe to Our YouTube, Instagram and Twitter – Twitter, Youtube and Instagram.

( Image Credit : Instagram )