New Delhi, JNN. Kangana Ranaut on Pathan's success: Shah Rukh Khan's Pathan has broken several box office records since its release on January 25. A few days ago, Queen Kangana Ranaut also tweeted about the success of the movie. However, in the film, an attempt has been made to show the image of Pakistan in a good way, which is being described as the victory of love over hate. Kangna now got angry about this and even gave a warning.
Kangana reacted again on Pathan
After Pathan's record-breaking release, Alia Bhatt and filmmaker Karan Johar praised the film on Instagram. Alia said 'love always wins', Karan wrote, 'love always wins hate'. Kangna didn't like all this and she started tweeting to him every day.
Bollywood warned
In the early hours of Saturday morning, Kangana Ranot, who recently returned to Twitter, gave Pathan a strong reaction. He wrote: 'Bollywood people please don't try to make this narrative that you are traveling in this country with Hindu hate, if I hear the words 'victory over hate' again you will have to take the same class you took yesterday. . 'Victory Over Hate', I'll take your class. Enjoy your success and do a good job, stay away from politics.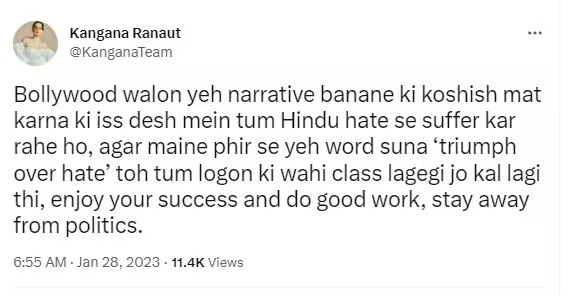 trolled people
People are also reacting fiercely to Kangana's tweet. One wrote that you're probably disappointed in Pathan's success. One tweet read: "Let's set Pathan apart… 'victory over hate' is another example of how her last nine films failed one after another. Kangana has been rejected by audiences." Another user tweeted: "Ma'am ji where are you from Bollywood? Are you from another industry?"
Reacted when Dhakad failed
Previously, Kangana had given a reaction to a user telling why her Dhaakad turned out to be a box office flop. Responding to her comment, Kangana had said on Friday: 'Yes, Dhakad was a historic failure, when did I deny it? This is Shahrukh ji's first hit movie in ten years, we also got inspiration from him, I hope we get the same chance as India gave him. After all this, India is great, generous, Jai Shri Ram.
read this too
Bigg Boss 16 King: This contestant became the king of the house, leaving Priyanka and Shiv behind, there are also high hopes of winning the trophy
Bigg Boss 16: Shocking! Sumbul leaving the show of his own free will? Decision made due to poor health of Papa Tauqeer
Edited by: ruchi vajpayee
Subscribe to Our YouTube, Instagram and Twitter – Twitter, Youtube and Instagram.

( Image Credit : Instagram )
Latest posts by UttarPradeshLive.Com
(see all)