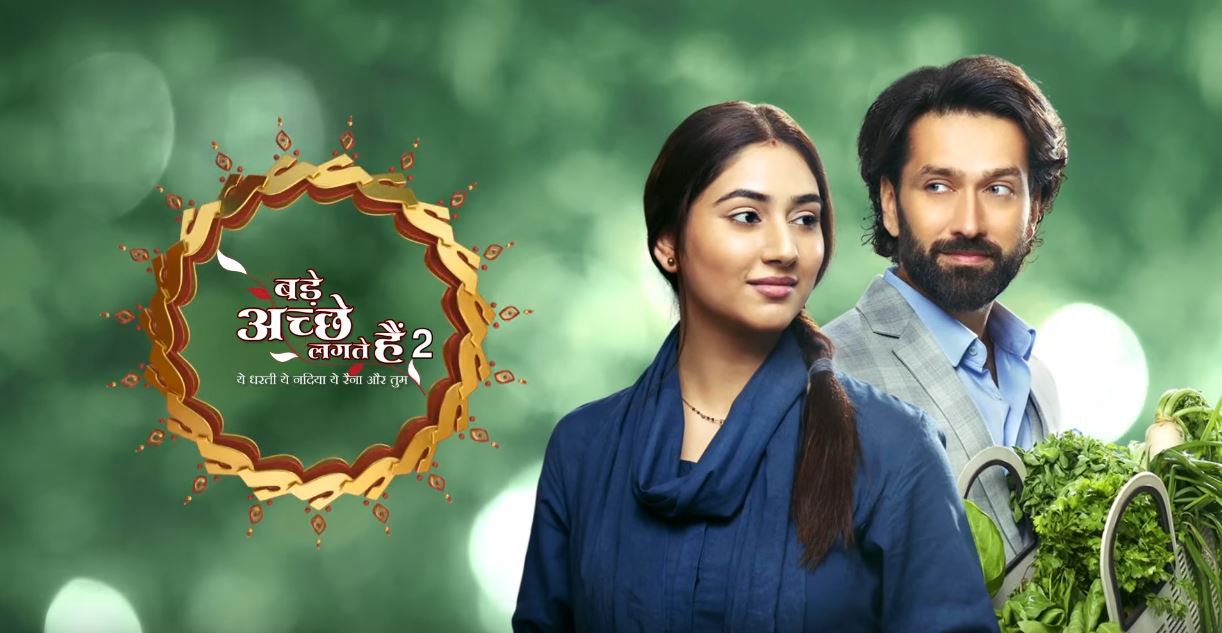 Bade Achhe Lagte Hain 2 4th April 2022 Written Episode, Written Update on UttarPradeshLive.Com
The episode starts with Priya saying that if you tell me the address, I will listen to you, otherwise I will go to the bakery alone. Ram says you will never be alone now. He gives the address of the farmhouse. He asks the driver to follow the GPS on his phone and play romantic songs on the radio. The driver asks how much is this phone, now if I get the money, I will also buy such a phone. The driver goes to Lou. Ram says he left us and went for Lu. She says you gave him 6 lakhs, so he runs away. He calls her a sadhu. She asks if I am feeling angry, tell me. He says my phone got switched off. She takes him to a lodge and says we need a room for a few hours. The man smiles. Ram Sanket number Priya asks what do you think, there is a movie going on, we are husband and wife, don't use your mind, what is the room rate. Man says 1000rs for two hours. She says we want it for four hours, but I will give Rs 1500. The man gives her the key. She asks if there is AC. He says yes, it is working. Ram says we are married, he is wearing mangalsutra and sindoor. Priya gives the charger to Ram. He thanks her. Ram and Priya see a mouse and get scared. They scream. Priya asks Ram to drive away the mouse. He hugs her. She says I am not Vedika. He says you take out anger on this mouse.
She screams and the mouse runs out of the room. She closes the door. Ram hugs Priya. Hum you….plays…he kisses her. She laughs. He tries to explain. He gets a call. He talks to Adi and Vikrant. Adi says you gave us wrong address. Ram says there is no milestone here, don't come, I don't want anyone to disturb me. Vikrant asks what are you saying, you are on a secret mission. Ram says yes, I am on a secret mission. Police comes and listens to Ram. Inspector interrogates Ram and gets him arrested. Ram says I am very respected industrialist, listen to me. Priya comes and looks for Ram. The man asks did the police go, they took Ram to the nearby police station, don't worry. Priya asks what. She runs to see. Ram says let me talk to your lawyer. Inspector scolds him. Ram says you can check, I am Ram Kapoor. Priya stops them. Ram says don't worry, I will handle. She says no, wait. He argued with the inspector. She says you all will be very sorry if you touch her, our auto got damaged so we have come here. Ram says I just bought an auto for 6 lakhs. She says I was upset so she left her job to explain to me, did you ask her once. Inspector says if he is rich then we will not leave him. She says we did not know about this place, he has come with his wife, it is not illegal that he lives with his wife, leave her. He says fine, you are the witness. She says no, I am his wife. He says you are lucky. Ram says I know. She says no need to thank, we will go home. He says you are ready to fight the world for me, you called me loyal and honest, then you compare me with your father. She says you did not remember that I said that I want to keep this marriage. Adi and Vikrant come. Adi asks them to come. Ram says we will go home. She says our house. Priya and Ram come to his house and meet the family. Maitri apologizes to Priya. Priya says its not wrong, no one is bothered by you, come.
They sit down to eat. Sandy asks for Bhajiya. Ram asks what is in it. Sandy says it's really delicious. Priya asks Meera to sit, she will come by making bhajiya. Sandy says I love you di. Ram thinks of me too. Meera feeds Ram with her own hands. Ram loves to eat. He feeds her. Priya smiles and thinks that Ram is with Meera like her son. Ram gives a message to Priya and asks her not to stare at him. She jokes. They chat. Priya meets by making bhajiyas. They all enjoy it. Ram asks Priya to answer. She asks him to do Bhajiya. He holds her hand and says reply.
Precap:
Vedika says you tried to kill Ram, anything could have happened to him. Mami says Mahendra tried to kill Ram, Priya knew this. Nandini scolds Priya. Priya cries.

Update Credits: Amena
Subscribe to Our YouTube, Instagram and Twitter – Twitter, Youtube and Instagram.