DC won their second game of the tournament by defeating KKR.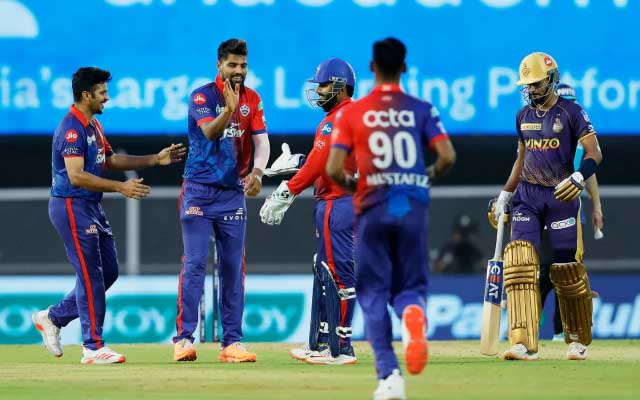 Kolkata Knight Riders (KKR) and Delhi Capitals (DC) have 19. I squared offth game of IPL 2022 At Brabourne Stadium, Mumbai. DC broke KKR's winning streak when they posted a huge score on the board, and defended it successfully. Shreyas Iyer's decision to bowl first backfired as his team could not manage to chase down the score and were handed their second defeat of the season.
After coming to bat, DC opener Prithvi Shaw (51 in 29) and David Warner (61 off 45) gave his team a solid start as they put on a 93-run stand for the opening partnership. Both of them were successful in scoring their respective fifties. A scintillating knock from Rishabh Pant helped propel the innings through the middle, but DC lost their middle order too early.
It was Axar Patel and Shardul Thakur who formed a formidable partnership to propel the innings through the end, as DC posted a massive total of 215/5. Sunil Narine added two wickets to his account, while Umesh Yadav, Varun Chakraborty and Andre Russell added a wicket each to their bag.
Kuldeep Yadav's four helped DC seal the deal against KKR
Talking about the chase, KKR stumbled upon their wickets. After Ajinkya Rahane was given extra life not once, but thrice in the first over, he eventually had to walk back. Venkatesh Iyer was looking for a longer run, but his innings lasted only eight balls. The middle partnership between Shreyas Iyer and Nitish Rana handled the innings a bit, but the DC bowlers continued to take wickets at regular intervals.
a wonderful mantra Kuldeep Yadav KKR were stopped from chasing down the score as they added four wickets in their kitty. He dismissed Pat Cummins, Sunil Narine and Umesh Yadav in his final over of the game, taking his tally to four. Power-hitter Andre Russell tried his best to cover but did not cross the line.
Delhi Capitals were exceptional in the game, with the batsmen as well as the bowlers making equal contributions. A proper team effort helped Delhi Capitals secure their second win of the tournament by 44 runs.
These are the 10 best memes of KKR vs DC match
,@imkuldeep18 This game for KKR: #KKRVDC #IPL2022 pic.twitter.com/CqfPIhAsF0

— Wasim Jaffer (@wasim jaffer14) April 10, 2022
DC under Rishabh Pant (soon) #DCVKKR pic.twitter.com/8HouP43bDh

— One Handed Six Academy (@1handed_6) April 10, 2022
Water boy Kuldeep has become the wicket taker now ️🤌 !! #DCVKKR #DCVSKKR pic.twitter.com/QHupTEK3NW

— atiksh (@thatuniverseguy) April 10, 2022
kuldeep yadav you beauty #IPL2022#KKRVDC pic.twitter.com/Qwzx07ghb5

— 2.0 (@Meme_Canteen) April 10, 2022
Kuldeep Yadav with KKR
Kuldeep Yadav opposite KKR pic.twitter.com/8yQB8hvgp3

— Professor NGL Raja Babu (@GaurangBhardwa1) April 10, 2022
Warra Mochan by Kuldeep Yadav pic.twitter.com/pGA58z6GCA

— Shivani (@meme_ki_diwani) April 10, 2022
Yuzvendra Chahal after watching Kuldeep's performance:#KKRVSDC pic.twitter.com/y0FSiymOrB

— pulkit️ (@pulkit5Dx) April 10, 2022
Shahrukh watching Kuldeep's performance:-#KKRVSDC #Kuldeep pic.twitter.com/C9fuY47Z9p

— GentleMan07 (@notsogentleman0) April 10, 2022
Kuldeep destroying KKR pic.twitter.com/Bh4MEnNPRq

— Sagar (@sagarcasm) April 10, 2022
Khaleel under Rishabh Pant pic.twitter.com/P411cmUADa

—' (@RP17_4EVER) April 10, 2022




Subscribe to Our YouTube, Instagram and Twitter – Twitter, Youtube and Instagram.